Organizations
Alpha Phi Sigma, National Criminal Justice Honor Society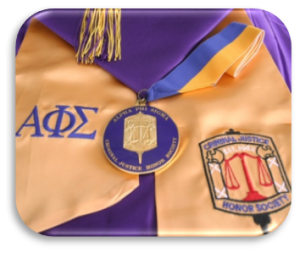 We encourage students to become a member of Alpha Phi Sigma, the National Criminal Justice Honor Society. At ECU's Omega Alpha chapter we value academic excellence and give our students the recognition they deserve.  Criminal justice undergraduate or graduate students, who meet the national standards, are invited to join the most prestigious criminal justice honor society in the country.

Learn more about APS by visiting us on Engage
Contact:
Dr. Steven Brewer (Faculty Advisor) at brewers19@ecu.edu or 252-737-2415 (Rivers 242)
Dr. Michaela Flippin (Faculty Co-Advisor) at flippinmi22@ecu.edu or 252-737-5303 (Austin 313)
Dr. Logan Kennedy (Faculty Co-Advisor) at kennedylo22@ecu.edu or 252-737-5304 (Austin 313)
---
Student Membership in National or Regional Criminal Justice Associations
Students are encouraged to join national and regional criminal justice associations to learn more about developments in the criminal justice field, network with students and academics from other educational institutions, and find out about career opportunities. The organizations listed below offer student memberships.