News
---
Four Faculty Members Earn Promotions
June 1, 2023
Several faculty members earned promotions that will take affect during the next academic year. Congratulations to Mrs. Heather Douglas, who promoted to Senior Teaching Instructor, Mr. Chad Jordan, who promoted to Senior Teaching Instructor, Dr. Scott Walfield, who earned tenure and promoted to Associate Professor, and Dr. Heidi Bonner, who was promoted to Professor.
---
Dr. Malkin Participates in Virtual Forum on College Sports Betting
April 28, 2023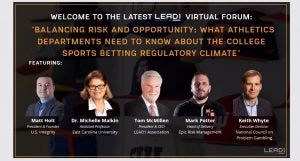 Dr. Michelle Malkin took part in a virtual forum hosted by the LEAD1 Association, which represents the athletics directors of the 133 member universities of the Football Bowl Subdivision (FBS). The forum, titled "Balancing Risk and Opportunity: What Athletics Departments Need to Know About the College Sports Betting Regulatory Climate," was geared toward NCAA athletic directors, regulators, college officials, and others.
---
Distinguished Alumnus Earns Lifetime Achievement Award
April 27, 2023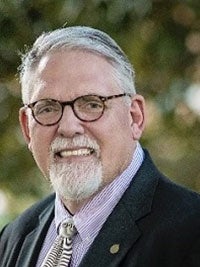 Mr. Art Beeler, an alumnus of the Department of Criminal Justice, earned the National Medal of Honor Lifetime Achievement Award from One Voice United (OVU). OVU is a campaign to give correctional officers and staff a voice in national conversations about corrections and the criminal justice system. Mr. Beeler has a 40-year career as a correctional professional, culminating with his appointment as Warden of the Federal Butner Correctional Complex. He serves on the department Advisory Board and is the recipient of the ECU Alumni Association's 2017 Outstanding Alumni Award.
---
MTA Students Participate in Mock Trial
April 18, 2023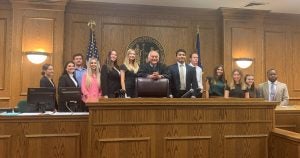 Mock Trial Association (MTA) students participated in the annual Mock Trial on April 18. Judge Mario Perez presided over the event, held in the Pitt County Courthouse. This year's trial focused on a first-degree murder mystery, and students spent all year preparing for the event. The MTA is open to any ECU student interested in learning about the law and legal professions. Activities include monthly meetings, attending court proceedings, touring law schools, hosting guest speakers, and participating in mock trial activities. Read more about the MTA in this East Carolinian story!
---
Mr. Allsbrook Recognized as an Honored Instructor
April 18, 2023
Mr. Richard Allsbrook was recognized as an Honored Instructor and was invited to the Honored Instructor Recognition and Social Event on April 18. One or more student(s) who reside in Campus Living recognized him for his significant impact on their educational experience here at ECU.
---
Dr. Malkin Quoted in News Stories about Problem Gambling
April 18, 2023
Dr. Michelle Malkin has been quoted in a US News & World Report story featuring problem-based gambling. She noted the concerns with a lack of educational resources about problem gambling and the fact that most people are naïve about gambling addiction and do not realize how quickly an exciting outlet can turn dangerous.
---
Chris Wilson Provides Inspirational Talk as 2023 Social Justice in Criminal Justice Speaker
April 12, 2023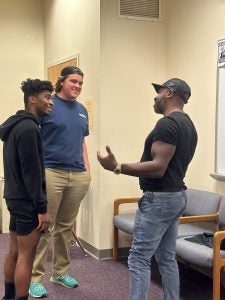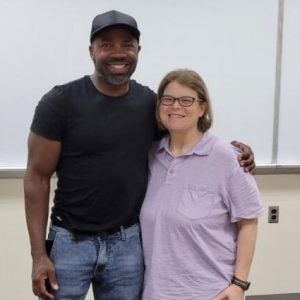 Chris Wilson, a serial social entrepreneur, storyteller, artist, social justice advocate, and author, served as the department's third Social Justice in Criminal Justice speaker. Born and raised in Washington, D.C., Wilson was convicted of a crime at age 17 and sentenced to life in prison. During the evening event, Wilson spoke to students and faculty about how he earned a high school diploma and an AA degree in Sociology during his confinement. He also graduated from all the vocational shops and taught himself to speak and write several languages. After serving 16 years in prison, Wilson is determined to make a difference in the lives of those who grew up in situations like his.
---
Department Hosts 12th Annual Criminal Justice Career Fair
March 14, 2023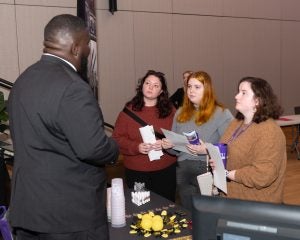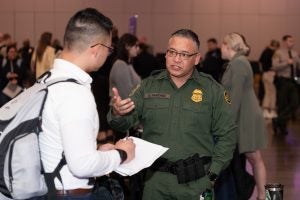 The department held its annual Criminal Justice Career Fair on March 14 as part of Criminal Justice month. Over 40 federal, state, and local agencies, private businesses, and law schools participated, and over 400 students attended. This year, we also recognized 17 recruiters that were also ECU alums! The Career Fair is provided at no cost to participants and students and provides a key opportunity for students at ECU and surrounding community colleges to learn about internship and career opportunities. Check out our Career Fair page for more information, and plan to attend next March!
---
Alumnus Akeem Thomas is an ECU 2023 "40 Under Forty" Leadership Recipient
March 3, 2023
Mr. Akeem Devon Thomas was selected as a 40 Under Forty leadership recipient by the ECU Division of Student Affairs. Mr. Thomas earned his MS in Criminal Justice in 2019, and currently works as a juvenile court counselor for the North Carolina Department of Public Safety. He credits the department with preparing him for "the rehabilitative nature of juvenile justice and how the balance of treatment versus punishment plays a role in the decision-making of each case." Learn more about his path to 40 Under Forty in his alumni profile!
---
Dr. Jones Selected to Participate in Course FIT
February 14, 2023
Dr. Mark Jones has been selected to participate in Course FIT (Functional Innovative Teaching), an intensive opportunity for faculty to explore effective design for fully online courses and select educational technologies to help accomplish their instructional goals. Dr. Jones will focus his efforts on JUST 4006 (Community Corrections).
---
Mr. Jordan Elected to the Board of the North Carolina Criminal Justice Association
February 10, 2023
Congratulations to Mr. Chad Jordan on his recent election to the North Carolina Criminal Justice Association (NCCJA) board! Mr. Jordan is a Senior Teaching Instructor for the department and the advisor for the Criminal Justice Student Organization. The NCCJA is the oldest state-level criminal justice organization in the United States.
---
Dr. Walfield Interviewed by CBS Chicago
February 7, 2023
Dr. Scott Walfield, a national expert on sex offender management and policy, was interviewed by CBS Chicago regarding their lack of compliance with sex offender registry requirements. He highlighted the importance of ensuring the registry has the correct information for each individual and also discussed some best practices in other states.
---
Online Master's in Criminal Justice Nationally Ranked; Remains Number One Program in NC
January 24, 2023
The department's online graduate program in criminal justice remains the top-ranked program in North Carolina, according to the US News & World Report. The 2023 rankings also place our program in the top 20% of schools recognized nationwide (19th out of 95 schools) and 14th for veterans. Dr. Heidi Bonner, chair of the department, expressed pride in the continued high rankings and noted that "students learn from faculty who are recognized scholars with a broad spectrum of criminal justice and criminology expertise, and our program is ideal for adult learners with busy schedules seeking to advance their careers."
See the full story on the ECU website and determine if our program is right for you! Application deadlines are May 15 and October 15.
---
Three Faculty Members Recognized by University Libraries
January 20, 2023
Drs. James Anderson, Sara Bryson, and Michele Malkin were all recognized at the annual Faculty Book Author and Affordable Textbooks Awards Ceremony. Dr. Anderson was honored for his authorship of Criminal Justice Research Methods. Drs. Bryson and Malkin were recognized for participating in the Alternative Textbook Program. Since 2016, the Alternative Textbook Program has contributed to student success by saving students money on their textbooks (a combined total of over $677,400) and providing course materials that are timely, relevant, and inclusive.